Give the Gift of Meaningful Beauty...Cindy Crawford's Secret!
Meaningful Beauty by Cindy Crawford - Skin Brightening Décolleté and Neck Treatment SPF 15
Cindy Crawford and Dr. Jean-Louis Sebagh a cosmetic surgeon have collaborated and developed Meaningful Beauty products.

The products are formulated with Superoxide Dismutase and anti-oxidant that will help fight free radical damage. It also contains Cucumis Melo Extract, from cantaloupe or honeydew melon fruits rich in vitamin A & C.

This product was really very nice I have visible fine lines on my neck and décolleté. This is a rich silky formula and is designed to help firm and smooth. It can be used day or night it is very emollient and I prefer applying it as my nighttime treatment.

After my very first application I did notice a difference on my neck and chest - the fine lines looked smooth and hydrated. I think this is a very nice formula and I will continue using it. It has a very nice fragrance, not overbearing.
Meaningful Beauty by Cindy Crawford - Crème de Serum

This is Cindy's Crème de la Crème.
This is a great anti-oxidant serum it's lightweight and absorbs quickly into your skin. It contains the anti-oxidants found in melons as well as anti-aging peptides and hyaluronic acid.

I have very dry skin and would recommend using this before your moisturizer. It has a wonderful silky feel on your skin I recommend using this day or night. It has a similar lightweight scent.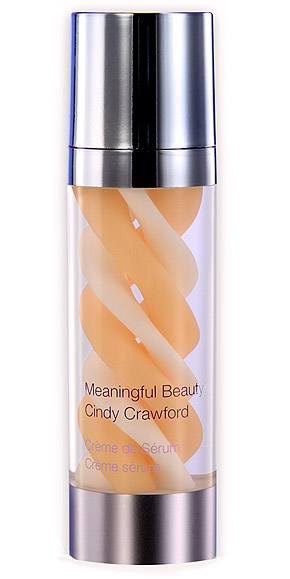 Meaningful Beauty by Cindy Crawford – Lifting Eye Crème – Advanced Formula
The formula is enriched with optical diffusers that will address dark circles and reduce puffiness. It contains the anti-oxidants from the melon extract and aloe plus witch hazel which are very soothing to your skin.
The blends of grape seed extract, soybean and sunflower oils will leave the eye area feeling soft smooth and hydrated. I found that it did reduce some of the puffiness under my eyes and helped address my fine lines, under my eyes looked brighter and smoother.
Enjoy the journey!
Grayce
Last modified on